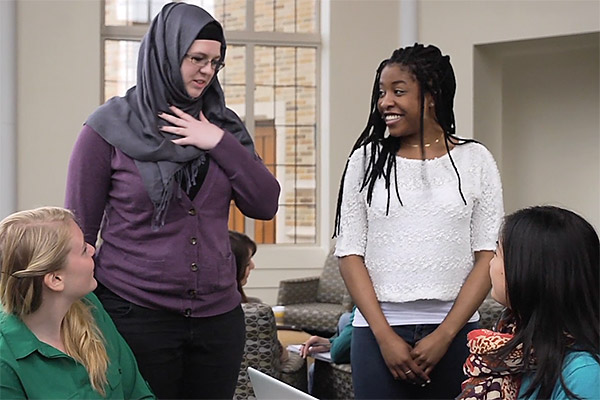 Discrimination, in numerous forms, continues to plague campus communities. These three modules from Building Community focus on awareness and prevention of various kinds of discrimination. Covering the range of discrimination, these modules bring understanding and patience to fostering community amidst the cultural diversity unique to your campus.
Racial Discrimination and Classism
College campuses are diverse communities, made up of unique individuals from various ethnicities and backgrounds, each of whom contribute to the institution's cultural diversity. This impactful module:
addresses negative assumptions related to race, class, equality and diversity
provides diversity training
illustrates destructive micro-aggressions
illuminates the reality of racial discrimination and racism on college campuses
teaches the valuable practice of broadening one's awareness of other races and socio-economic backgrounds
demonstrates the opportunity for enhanced learning and personal growth
Religious Discrimination
Learning about other religious perspectives expands awareness, and leads to healthy and respectful conversations with others from various belief systems. This module enhances the individual and communal experience of freedom of religion by providing practical information related to religious discrimination and religious bias. Participants learn to promote a healthy and safe campus community by respecting the dignity of others.
Sexual Orientation and Gender Identity Discrimination
Being part of a healthy and safe community means welcoming and supporting all members of your campus community, including those who identify themselves as gay, lesbian, bisexual, transgender, or questioning. This module addresses sexual orientation discrimination and gender identity discrimination; the need for respect, compassion and sensitivity; and practical actions to prevent LGBT discrimination. Designed to contribute to an overall diversity training approach, topics covered include:
Gay discrimination
Transgender discrimination
Lesbian discrimination
Bisexual discrimination
Important definitions
Examples of being a supportive ally